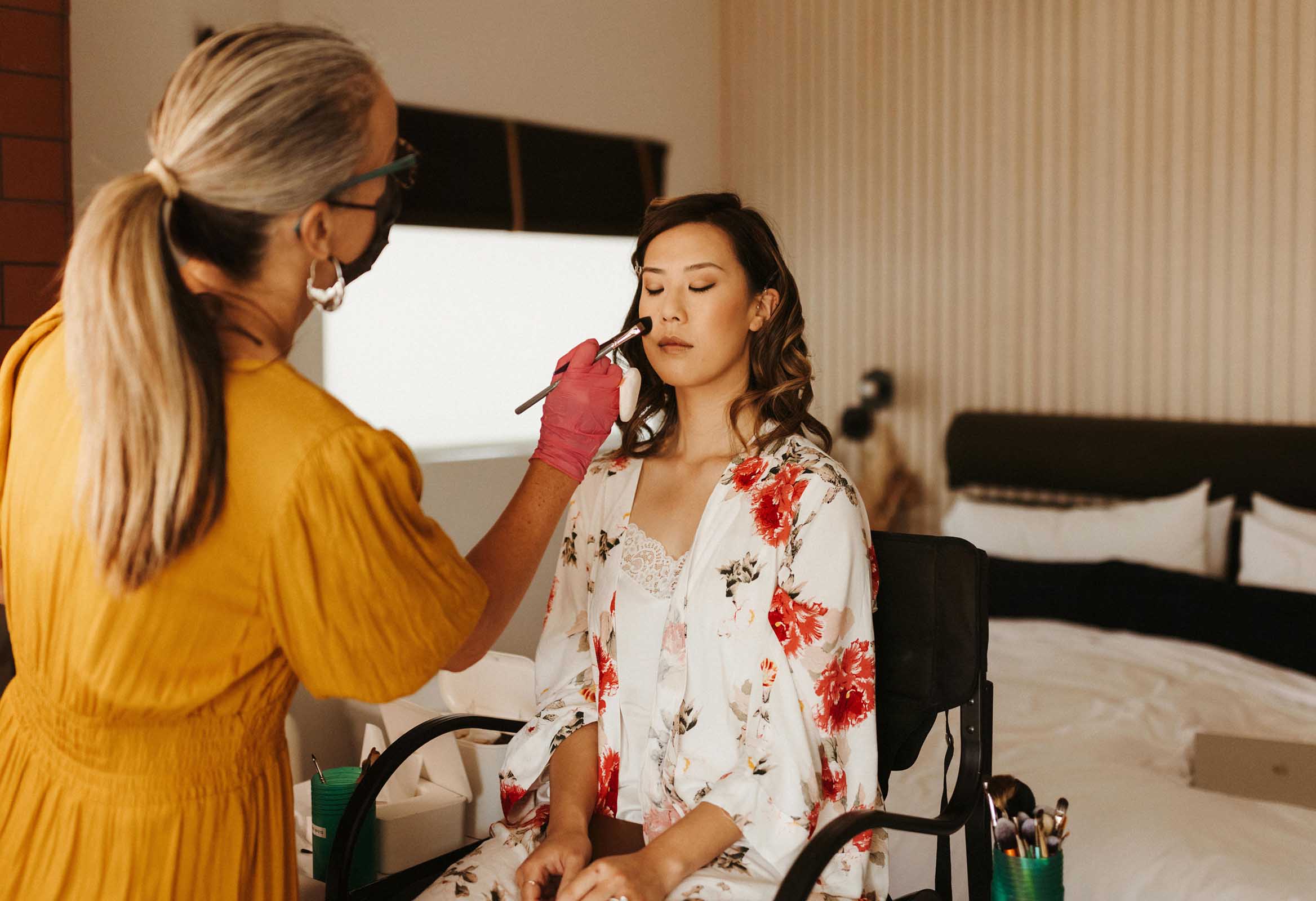 Frequently asked questions about weddings
Q: What is airbrush makeup?
A: Airbrush makeup is foundation or base makeup sprayed onto the skin using an airbrush instead of being applied with sponges, brushes, or hands. It was designed for HD television and it creates a sheer, natural appearance but is also buildable. It is also a very hygienic way to apply makeup.
Q: Do you do hair extensions?
A: I am able to apply clip in or halo extensions for your wedding day if needed. You will need to arrange this with me ahead of time. I do not supply you with the hair.
Q: Do you do false lashes or lash extensions?
A: I apply false lashes the day of your event. I do not do lash extensions. Be aware if you plan on having lash extensions on your wedding day that they may need mascara and that other waterproof eye makeup could effect there longevity after your event.
Q: What do I do about touch up's once I am done?
A: I give all my brides a small touch up kit to maintain their look.
Q: How should I be prepared the morning of for my hair and makeup?
A: Please have clean dry hair and be makeup free. Apply your normal moisturizer but no sunscreen. Also have on a robe or a button down shirt.
Q: What is your vaccination status or policy?
A: I am fully vaccinated and boosted. Because the safety and comfort of my clients is my number one priority I prefer to only work with fully vaccinated persons.
Q: How soon should I book my date?
A: The sooner the better. You'd be surprised how far out dates get booked.
Q: How do I book services for my wedding day?
A: Contact me via email and I can send you a contract to review. I just need a signed contract and a non-refundable retainer of $100.00 to book your date.
Q: What is your cancelation policy?
A: If for some reason you need to cancel your services you will forfeit your $100.00 retainer and any fees paid for your trial run. If it is six months prior to your wedding date then that is the only charge. If you cancel less then six months before your date you will be required to pay 50% of your day of total.
Q: Can you provide services for a large group?
A: The maximum services I can do is six. Because I do hair and makeup I specialize in elopements and smaller groups. The brides hair and makeup is two services.
Q: How long does it take to do hair and makeup?
A: The bride normally takes 3 hours for hair and makeup and the other party members 2 hours for hair and makeup.
Q: Do I need a trial run, is it required, and how soon should I book it?
A: It is not required but it is always helpful. Like the wedding date booking as soon as possible is advised. Many of my brides are from out of the area and we exchange photos prior to the wedding if they can not do a trial in person. I do offer the option of a Zoom call to discuss your day of look. Also all trial runs are only available for booked brides and it is an additional fee.
Q: Do you come to my location or do I come to you?
A: For the day of your wedding I come to you at your location of choice.

on-location wedding + elopement makeup artist + hairstylist